Amazing Spain & Portugal - Classic Group, 2023 Classic Group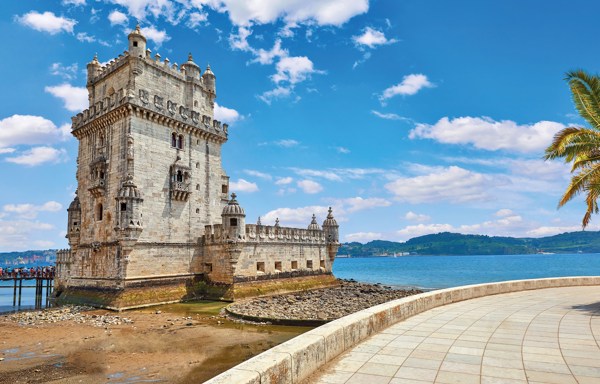 Amazing Spain & Portugal - Classic Group, 2023 Classic Group
From walking the cobblestone streets of a former Roman colony to tasting a decadent 'Pasteis de Nata' tart made from a 200-year-old secret recipe, this 9-day guided tour allows you to embrace the best of old-world Spain and Portugal. Listen as metal sizzles in a master artisan's hands as he teaches you the craft of Damascene. In Granada, wander the fragrant and arabesque gardens of the Alhambra Palace. Learn the art of flamenco dancing, stomping your feet to the sounds of an acoustic guitar, in a private lesson with professionals in Seville. Then, cross the Portuguese border to scale a 16th-century fortress in Lisbon and visit Fátima, Portugal's most holy site. Finally, raise a glass and say ¡salud! to these ancient wonders during a celebration feast in Madrid.
Choice Highlights
Choose between two carefully selected activities
Seville: Visit the Seville Cathedral with your Local Expert. Pass the altarpiece dripping with gold and see the Tomb of Columbus, held aloft by four kings.
Seville: Explore Seville's top sights on a panoramic city tour with your Local Expert, and a stop for a refreshing beverage.
Well-being
: Our Well-Being Directors take a proactive approach to your welfare ensuring all well-being regulations are met (available on tours with 21 or more guests).
: Enjoy the comfort of Insight's luxurious, air-conditioned, 40-seat coach with double the standard legroom and onboard washroom. Our customized luxury coaches are sanitized before the start of your tour and are maintained to very high standards. Physical distancing measures have been implemented on our customized luxury coaches.
: Experience enhanced hygiene protocols to align with the latest guidance following COVID-19.All Travel Directors, Well-Being Directors and Drivers have completed training in enhanced well-being and hygiene protocols.
: We only work with establishments we are confident will consistently adhere to our high well-being standards, which include hotels, restaurants and sight-seeing venues.
: Hand sanitizer is freely available on board for you to use throughout the day.
Travel Director
: "There is nothing quite like sampling the many varieties of tapas. Every region has its own delicacies so you can be assured that you will taste different ones everywhere you go."
: "Guests are surprised to find that Spanish is not the only language spoken in the country – there's also Basque, Galician and Catalan, not to mention the little dialects in each province."
: "No visit to Portugal is complete without an extensive investigation into its gastronomy. Our guests are delighted by the high-quality food, diverse flavours and generous service for which the Portuguese are known."
Authentic Dining
Madrid: Join your Travel Director at 18:00 for a Welcome Dinner in a local restaurant and get to know your fellow travellers over a beautiful evening of delicious food and wine.
Lisbon: Delight in a taste of the famous Portuguese delicacy, Pastéis de Belém.
Madrid: With good food and wine, toast the culmination of your travels during a fabulous Celebration Dinner.
Dining Summary: 8 Breakfast (B), and 3 Dinner with Wine (DW)
Insight Experiences
Toledo: At a Damascene workshop, meet a master artisan for a personal insight into this ancient craft. Witness firsthand their precision as they inlay gold and silver into iron, using a chisel and a hammer.
Granada: Visit the famous Alhambra Palace and Generalife Gardens. While others wait in line, you'll be exploring accompanied by a Local Expert, keen to share insights into this Moorish landmark.
Top Rated Highlights
Toledo: Explore this magnificent ancient city with your Local Expert and visit the Church of Santo Tome; to see an El Greco's masterpiece.
Granada: Explore 'The City of the Pomegranate' with a Local Expert. During sightseeing you'll see the icons dedicated to this fruit throughout the city.
Seville: Visit the Seville Cathedral with your Local Expert. Pass the altarpiece dripping with gold and see the Tomb of Columbus, held aloft by four kings.
Seville: Explore Seville's top sights on a panoramic city tour with your Local Expert, and a stop for a refreshing beverage.
Évora: With your Travel Director explore the ancient city of Evora and visit the fascinating Capela dos Ossos, meaning the Chapel of Bones, a chapel decorated with human remains.
Lisbon: Explore with your Local Expert, from the Lower Town, beneath the hilltop Bairro Alto to the Terreiro do Paco. Visit the Belém Quarter to see the modern Monument to the Discoveries and the ancient Belém Tower.
Lisbon: Visit Jerónimos Monastery with its beautiful Manueline architecture, reflecting Portugal's trade over the centuries and UNESCO World Heritage Site.
Fátima: Join the faithful at one of the world's holiest sites and pay homage at the Chapel of the Apparitions or see the basilica.
Salamanca: See the golden stone buildings and handsome arcades of Plaza Mayor for which this city is famous for.
Avila: Walk within the ancient walls of this unique town.
Madrid: See the highlights of the city with your Local Expert. Visit the Old Town, travelling along the elegant Paseo de la Castellana, past the fountain in the Plaza de Cibeles, the Cervantes Monument and Royal Palace, before crossing the Puerta del Sol.
Make Travel Matter
Seville: The Cristina Heeren Foundation aims to promote the teaching and conservation of flamenco and is a beneficiary of a TreadRight Foundation grant. Meet the students of the foundation, learn some basic flamenco steps, and then feel the passion as they perform an emotional show. The school enabl...

At Insight Vacations, we have been in the business of creating magical experiences for travelers for over 40 years. But for us, it's never been just a business. Travel in its truest sense - not just going to incredible places, but really connecting with them, in an authentic way - is both a joy and a personal passion, for every member of our team. Let us share that passion with you. We'll take you on an unforgettable journey. We'll immerse you in unique experiences, and we'll introduce you to am
...